ABOUT SAGE BEC
We are a multi-disciplined specialist contractor based in the West Midlands. We're dedicated to delivering excellent customer service and are recognised by key industry accreditations.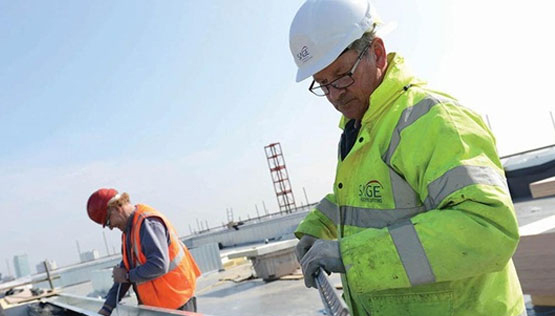 ROOFING, CLADDING & RAINSCREEN CONTRACTORS
Sage BEC (formerly Sage Roofing) are experts at building envelopes with expertise in new build and refurbishment, flat roofing, cladding systems, rainscreens, hot melt and single ply.
We prefer contract values between £400,000 and £3,000,000 as within this range we can offer a competitive service whilst ensuring that our clients get the level of service they deserve.
We have a simple trade intention; to form a long standing, interactive work relationship with all our clients to deliver outstanding results enabling further business. Our wealth of experience and sub-contractor knowledge allows us to optimise costs, design and co-ordination.
As experienced contractors we follow strict industry regulations and guidelines with paramount importance and all our new build and refurbishment projects adhere to these standards. Our expertise allows us to offer commercial roofing, industrial roofing and warehouse roofing services across the length and breadth of the UK.
We undertake a variety of different factory projects and have a vast amount of experience in completing refurbishment projects without halting or disrupting production. Our work can also be spread over annual periods to suit strict budget requirements. All our projects are guaranteed, we can even offer 25 year insurance backed warranties and 40 year product guarantees if required.
We have worked with prestigious clients and we are accredited by large corporations including Constructionline, Investors in People, Climate Care and Worksafe Contractor. We pride ourselves on constant consultations with our clients.
Our previous client list includes giants like Wates, Willmot Dixon, Vinci, Taylor Wimpey, Jaguar, Land Rover, Peugeot and Rolls Royce.
WHY YOU SHOULD CHOOSE SAGE BEC
Our project gallery and client testimonials illustrates our flexibility and ability to adapt to the most bespoke of projects and deliver results that we are proud to boast.
Sage BEC has a wealth of experience in the roofing industry as well as incredibly vast knowledge in the area. For new roofing or refurbishment needs – Sage BEC is the answer.
We listen to our clients' requirements and work with you to make sure that any issues are designed out before the construction stage.
We have working relationships with all roofing, wall cladding and rainscreen manufacturers. This means we get only the best materials when working on projects.
We give confidence to our clients – that's why we offer guarantees on every single one of our projects. We can also offer both insurance backed warranties and material guarantees direct to the building owner if required.
We operate as a one stop shop for all roofing needs. We're able to provide aluminium and steel roofing, acoustics systems, single ply membrane, roof lights, SFS systems, wall cladding, rainscreen, and copper and zinc cladding. Whether its commercial, warehouse or industrial roofing you need– we have you covered.
We have a comprehensive skill set at Sage. That's why we're able to go above and beyond other contractors by removing problems through comprehensive designs. This way we can get rid of them before we even begin. Plan, section and detail drawings are created for every single project. We even have £2m Professional Indemnity Insurance covering our designs.
Complete transparency is offered to all of our clients. Every single stage of your project will be explained so that you can understand it.